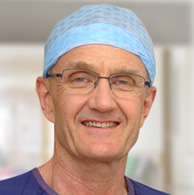 Dr Michael South
Orthopaedic Surgeon
Dr Michael South
Orthopaedic Surgeon
Specialising in surgery of the Hip, Knee, Hand & Wrist and Foot & Ankle
Mater Hospital, Rockhampton
I have been in practice as a specialist orthopaedic surgeon since 1991. I grew up in Rockhampton then gained my medical qualifications at the University of Queensland. My speciality training in orthopaedic surgery was in Brisbane at the Princess Alexandra Hospital, the Brisbane Mater Hospital and Greenslopes Hospital. After further surgical experience in England, Germany and the USA, I commenced practice in Rockhampton in 1992.
A major part of my practice is surgery of the knee and hip. In addition, I also treat a wide variety of common orthopaedic conditions including
Carpal Tunnel Syndrome (mini incision technique)
Common Hand Conditions such as Dupuytren's Contracture, De Quervain's Condition and Trigger Finger
Bunions and Claw Toes
Fractures of the upper and lower limbs
Qualifications
Undergraduate (University of Queensland)
Bachelor of Medicine (1983)
Bachelor of Surgery (1983)
Bachelor of Medical Science (1979)
Postgraduate
Fellow, Royal Australasian College of Surgeons (Orthopaedics, 1991)
Fellow, Australian Orthopaedic Association (1991)
Certified Independent Medical Examiner (2017)
Professional Memberships
Australian Orthopaedic Association
Australian Society of Orthopaedic Surgeons
Royal Australasian College of Surgeons
AOA Medico-Legal Society
American Board of Independent Medical Examiners
WorkCover Queensland Independent Medical Examiners Panel
Australian Doctors' Federation
Registration
Medical Board of Australia
Hospital Visiting Rights
Mater Hospital Rockhampton
Specific Areas of Interest
Knee Replacement
ACL Reconstruction and Meniscus Repair
Hip Replacement
Medico-legal Assessment and Reporting
My Practice Philosophy
The outcome of your treatment is critically important to me. I do my utmost to understand and communicate with my patients to help them understand their conditions and their treatment options, along with the benefits and risks of those options. An important part of my job is to keep abreast of the latest technologies and treatment, and to incorporate into my practice those which offer safe and reliable prospects of improvement for my patients. Following your surgery, ongoing review and support are integral to a successful outcome. Readily accessible aftercare is an important benefit I provide as a surgeon based in Rockhampton.
My staff and I are dedicated to delivering professional, modern and caring orthopaedic practice to the Central Queensland community.
Personal
I have been happily married to Jill since 1983 and we have 2 children.
My sporting and recreational interests include:
Fitness and Running
Tennis
Snow Skiing
Target shooting
Metalwork, welding, carbon fibre products
History and Geology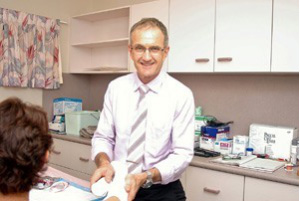 Dr Michael South
Suite 6
Mater Medical Centre
Jessie St
Rockhampton, QLD 4700