Corin OPS Hip Replacement
Dr South uses Corin's Optimized Positioning System (OPS) to achieve the best results for his patients undergoing total hip replacement. OPS is a unique customised, patient specific technology for hip surgery. It helps the surgeon provide optimal implant positioning with the goal of improved functional outcome.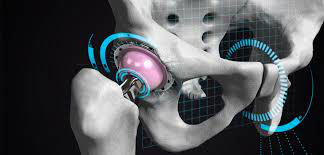 Hip replacements often fail due to poor orientation of the implants or components. Complications include impingement, loosening, squeaking and dislocation. The way the pelvis moves during activities differs from person to person and can help determine the ideal orientation of an implant. The Corin OPS records and evaluates the individual's unique hip movement to design an ideal hip replacement.

Example of cup-orientation Report

Pre-operative Image of Planned Cup
Position in a Severely Arthritic Hip
The system operates in two phases. First, you are asked to perform a series of movements which are recorded by medical imaging procedures and a team of engineers using specialized software will determine your unique anatomical geometry and how an implant would behave during movement. Based on this information and a surgeon report to further optimize results, the ideal orientation of the acetabular component (socket) is determined and a unique 3D guide model is printed to help your doctor position the component.

Patient-specific 3D-printed Guides

Laser-guided Cup Insertion
In the next phase, the unique 3D guide is placed in the hip socket to enable the precise orientation to be reproduced. A laser guided system then helps your surgeon seat the implant quickly and accurately. Your hip replacement is optimally positioned to minimize complications during movement.